The History of Flower Lei Greetings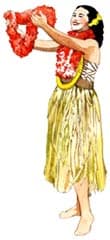 Hawaiian Lei Greeters
The image of Hawaiian lei greeters welcoming visitors with outstretched arms, holding beautiful flower leis, has become an iconic symbol of the Islands. In fact, since the dawn of tourism in Hawaii, lei greeters have been an integral part of the Hawaiian experience. Hawaii greeters are responsible for giving malihini (visitors) their first taste of the aloha spirit as they arrive in the Islands.
The Boat Days
During the early 1900s, arriving vacationers were showered with leis by friendly Hawaii greeters as they disembarked from large luxury liners, delighted to smell the beautiful fragrance and receive such a pleasant "aloha" greeting from the locals. Then, upon departing Hawaii, nostalgic visitors would often throw their lei into the sea as the ship passed Diamond Head, in the hopes that, like the lei, they too would return to the islands again someday.
The End of an Era
Hawaiian Hula Girls wear leisAs tourism increased during the latter part of the century, visitors began coming by plane. For a while, airlines kept up the Hawaiian tradition of welcoming malihini and arranged for lei greeters to greet each passenger with leis as they arrived. But when hundreds of visitors quickly turned into millions, this became a thing of the past.
Today's Lei Greeters, a Tradition Continues
Fortunately, this wonderful custom still lives on today. Hawaii greeters are available at all major Hawaiian airports. Visitors may simply make a reservation and request that a lei greeter meet them at the airport upon arrival. Guests are welcomed to the Hawaiian Islands with a warm "aloha" and a fresh flower lei, and often given helpful tips about Hawaii – a comforting way to begin a Hawaiian vacation. Arranging this service is easily done at LeiGreeting.com or by calling toll-free 1-800-665-7959.